We believe in jewelry that was made to last a lifetime. All Boma jewelry is crafted from the finest raw materials and guaranteed against defects in materials or workmanship from normal use.
*This warranty does not cover tarnish, loss, unauthorized repair, negligence or other factors not due to defects in material or workmanship. Lifetime guarantee does not cover damage due to normal wear-and-tear or abuse as determined by us.

If you recently bought an item from us and it broke immediately beyond just normal wear and tear, please contact us through the register form below.

In order to make your product eligible for warranty coverage register your jewelry so that we can help verify your purchase and assist you directly if you need assistance with a repair or replacement.

You can register on our register page here.

What is Boma's return and exchange policy?
We will gladly accept returns and exchanges of web orders made through www.bomajewelry.com on an item that is in original condition within 30 days of purchase, no questions asked.
How do I request a return or exchange?
To make a return or exchange request, please email our customer service team at help@bomajewelry.com.
What address do I ship returns and exchanges to?
Please mail your item(s) to the following address:
ATTN: Customer Service
BOMA JEWELRY
620 South 7th Street Renton, WA 98057
United States of America
How can I request a repair of my Boma Jewelry?
Get in touch with our customer service reps at help@bomajewelry.com. Please include an image of the broken style with a description of how it broke and how long you wore it. If the repair/replacement is covered under the warranty, we will repair or replace free of charge.

I lost my jewelry. Can you help me with a replacement?
Get in touch with our customer service reps at help@bomajewelry.com. Please include an image of the style number or include a simple description of the item so that we can help to identify it and check if we have a replacement in stock.
Why is my jewelry tarnished?
Your Boma Jewelry is made with sterling silver which has been the jewelry standard since the 14th century. Sterling silver is made up of pure silver with a mix of alloys with a small amount of copper. 100% pure silver is not used for jewelry because it would be too soft and not keep its shape. It is the mixture of 92.5% silver with 7.5% alloys that allows sterling silver to offer the luster we love, with durability needed for jewelry and other household goods.
However, naturally over time any sterling silver jewelry exposed to air will tarnish. Usually it is caused by the other metals mixed with your jewelry, typically copper, that makes sterling silver tarnish. The copper reacts to moisture and sulfur in the air, causing the tarnish. Sterling silver will tarnishes faster in areas with high humidity and air pollution. Additionally, chemicals like hairspray, perfume, deodorant, body lotion, bleach, etc., can speed up the tarnishing process.
The good news is that silver can be restored to its original luster with the proper care and cleaning techniques. Learn more about how to remove tarnish below.
How do I remove the tarnish on my jewelry?
A simple, at home solution to removing tarnish from your jewelry requires a few simple household ingredients that are natural, non-toxic and safe to use for your jewelry. You will need:
MATERIALS & INGREDIENTS:
- good quality witch hazel or white vinegar
- soft bristle toothbrush
- virgin coconut oil (optional)
- high-quality polishing cloth (optional)
INSTRUCTIONS:
1. Place your jewelry in a glass jar.
2. Pour in a ½ cup of vinegar or witch hazel so that it covers your jewelry. Add one drop of virgin coconut oil and mix gently with your fingers.
3. Allow your jewelry to soak in the mixture overnight.
4. The next morning, coat your jewelry with a tablespoon of baking soda
5. Use an old toothbrush to scrub your jewelry thoroughly but gently to brush all surfaces of your jewelry.
6. Lastly, rinse your jewelry with room temperature water.
8. For a polished finish, use a high-quality polishing cloth to make your jewelry shining.
If you'd like to purchase an industry grade polishing cloth from Boma please email us at help@bomajewelry.com.
How do I prevent tarnish?
All Boma Jewelry purchases are packaged with an anti-tarnish strip and compostable air-tight plastic bag. We suggest that when your jewelry is not worn that you store your jewelry in this air-tight bag including the anti-tarnish strip.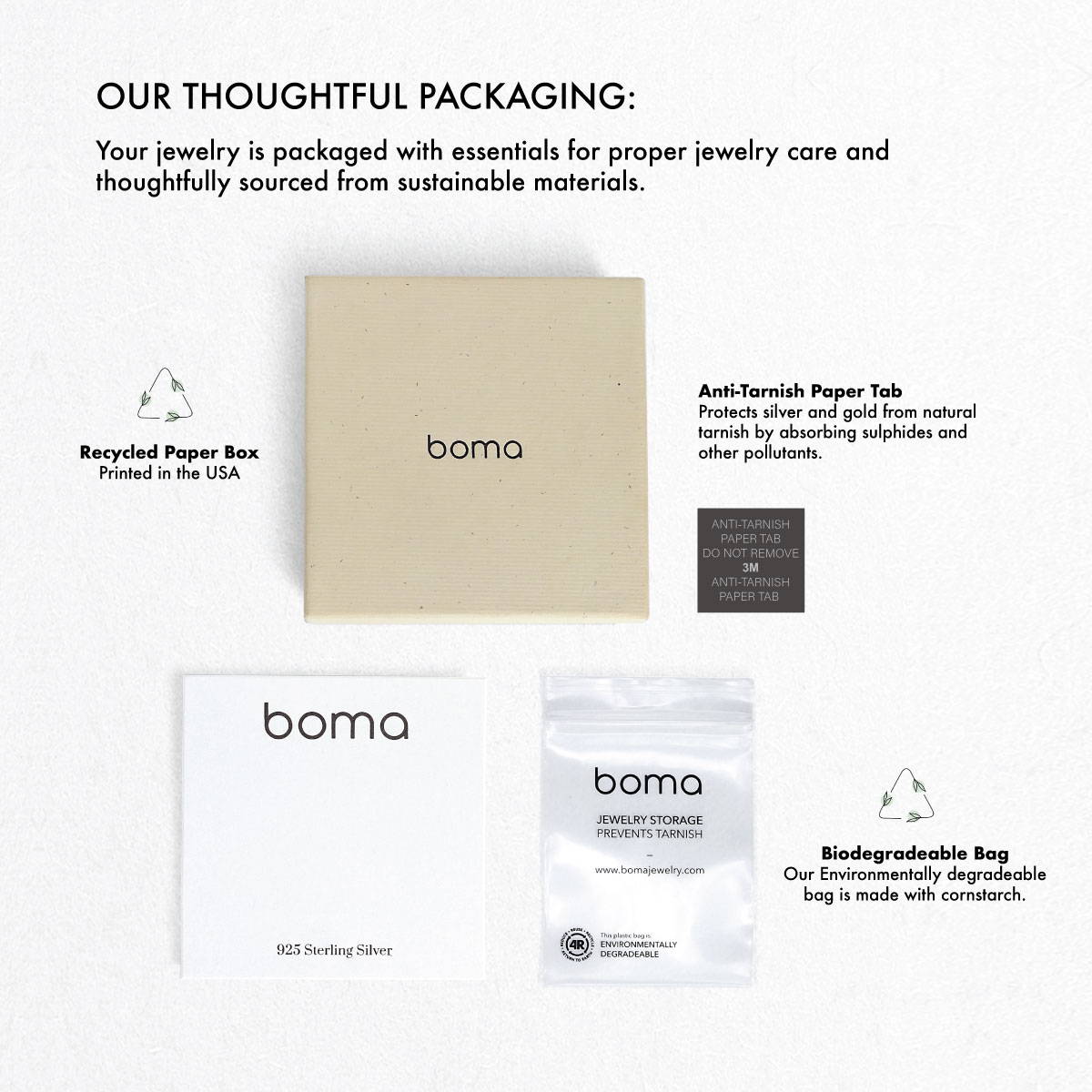 How long will it take for my order to arrive?
Orders placed by 12:00 noon PST Monday – Thursday typically ship within 48 hours.
Orders placed on Friday – Sunday will be shipped on Monday.
Orders shipped to PO Boxes, Hawaii, Alaska, APO and FPO will ship using standard shipping only.
Can I check the status of my order?
Yes. Email our customer service team at help@bomajewelry.com so we can assist you.
Can I use a promo code on an order that I already placed?
Yes. Email our customer service team at help@bomajewelry.com so we can check and confirm whether your promo code can be applied to your existing order.
Your online order will show tax applicable to the destination to which your order is shipped at current tax rates. Shipping charges may also be subject to tax in certain states. Boma Jewelry is required to collect tax in all states where we have a physical presence. Items sold by Boma and shipped to the following states are subject to sales tax: California, Idaho, New York, Texas and Washington. Customers in the state of Nevada must self report sales tax on purchases. Note: No sales tax is charged when purchasing gift cards; however, purchases that are paid for with gift cards may be subject to tax.
Email us at help@bomajewelry.com
Telephone (425) 226-1166
Office hours are M-F, 9:30pm-5pm (PST)
You are in advanced mode.
You can turn it off in left sidebar. To use advanced options, you will need to enter your own Google Maps API Key.
Get Google API Key