Since 1981, our vision is to be a company that focuses on the triple bottom line: people, planet, and profits.
Hello,

I am blessed to be a second-generation owner to our company and continue our family's heritage, while doubling down on our ethical and sustainable commitments to our customers and all our workers.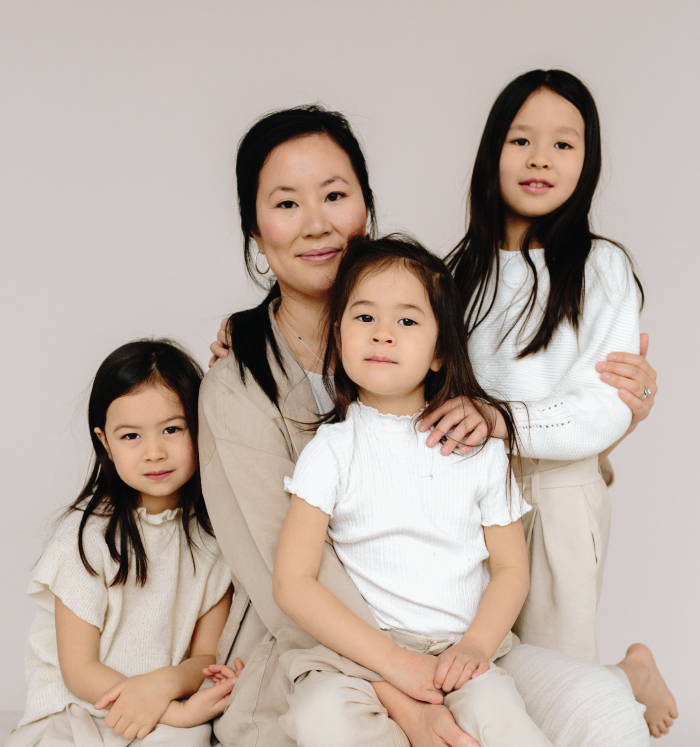 A look at some of the projects that we're working on today:

+ Our jewelry is found in over
1,000 retail partner's
stores
+ Actively pursuing B-Corp certification
+ Became a social-purpose company or Benefit Corporation in 2020
+ Members of the American Sustainable Business Council
+ Members of the Sustainable Fashion Alliance

+ SwitchIng our factory to renewable energy and away from fossil fuels

+ Building a plan for being a Carbon Neutral company by 2025

+ Partners with CarbonClick to provide carbon offsets for purchases

+ Continuing our grant program for BIPOC Jewelry designers

By realizing success, we aim to positively influence our industry to adopt transparency, traceability and high standards for the way we do business and continue to be an example of using our business as a force for good.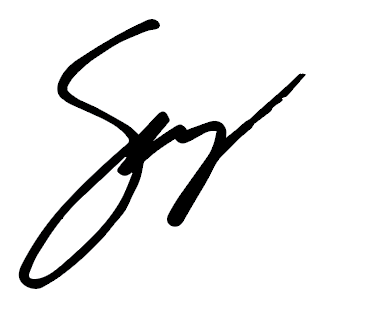 Suzanne Vetillart | Boma Jewelry CEO

We exist to be an example of generosity, love and long-term commitment to people and planet.
Everyday we work to execute our vision and mission on behalf of all of our stakeholders.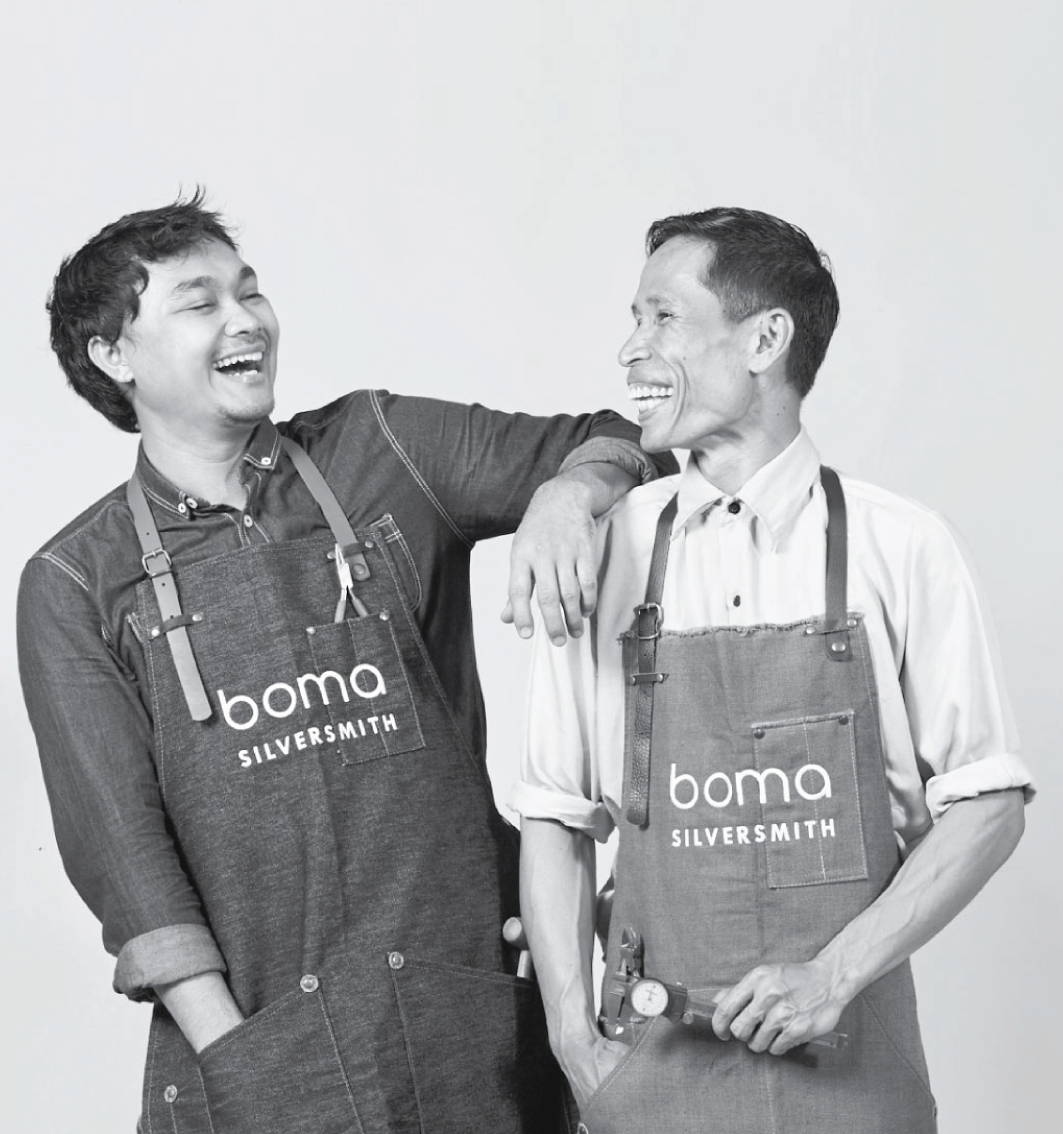 Ethically-Made

We aim to be the respected leader of accessible, ethically-made fine jewelry in the United States of America and beyond.

Transparency
By leading with transparency and sustainability with heart we focus on the people behind our products. Through our ownership of our supply chain we provide traceability that connects our customers directly with the source of the precious materials we use.

Environmental Management System
Through our 40 year heritage and 2020 Environmental Management Systems we highlight the importance of Circularity by focusing on: high-quality, repair and reuse, secondhand and vintage, and recycled materials and demonstrate how our products have circled continually over decades.

Zero-Waste Projects
Through our 2020 Zero Waste project, we highlight our process to up-cycle, reissue and reuse dead-stock materials that we've accumulated over the last 40 years.

Business for Good
With storytelling that's designed to be communicated for everyone, we aim to show the generosity and good will that businesses can achieve while continuing to serve all stakeholders including people and planet.
Social and Environmental Responsibility
We are committed to being social and environmental stewards of our planet and will continually look for improvements in our processes to lessen our environmental impact while supporting our workers and the communities we live in.
Positive Social Impact
We are committed to continuing our support for women, refugees and non-english speaking new immigrants to the United States of America especially immigrants from the Asian American community.
Environmental Impact
We are committed to looking at the full process of our supply chain to look at ways we can continually improve and lessen our environmental impact. From using recycled silver to working with our factories to switch to renewable energies, our commitment is to look at big and small areas of impact.
Girl's Education
We are committed to supporting communities of need and identifying relevant ways of charitable giving especially through partnerships with our manufacturer overseas.
Boma Girl Fund
Through our Boma Girl Fund we continue to contribute funds each year to support education scholarships, book drives and community events for the children of our factory workers.
Boma was founded in 1981 in Seattle, Washington.
On Christmas day in 1992, the stakeholders of Boma wrote the company objectives in a file titled "Boma Jewelry Company Objectives".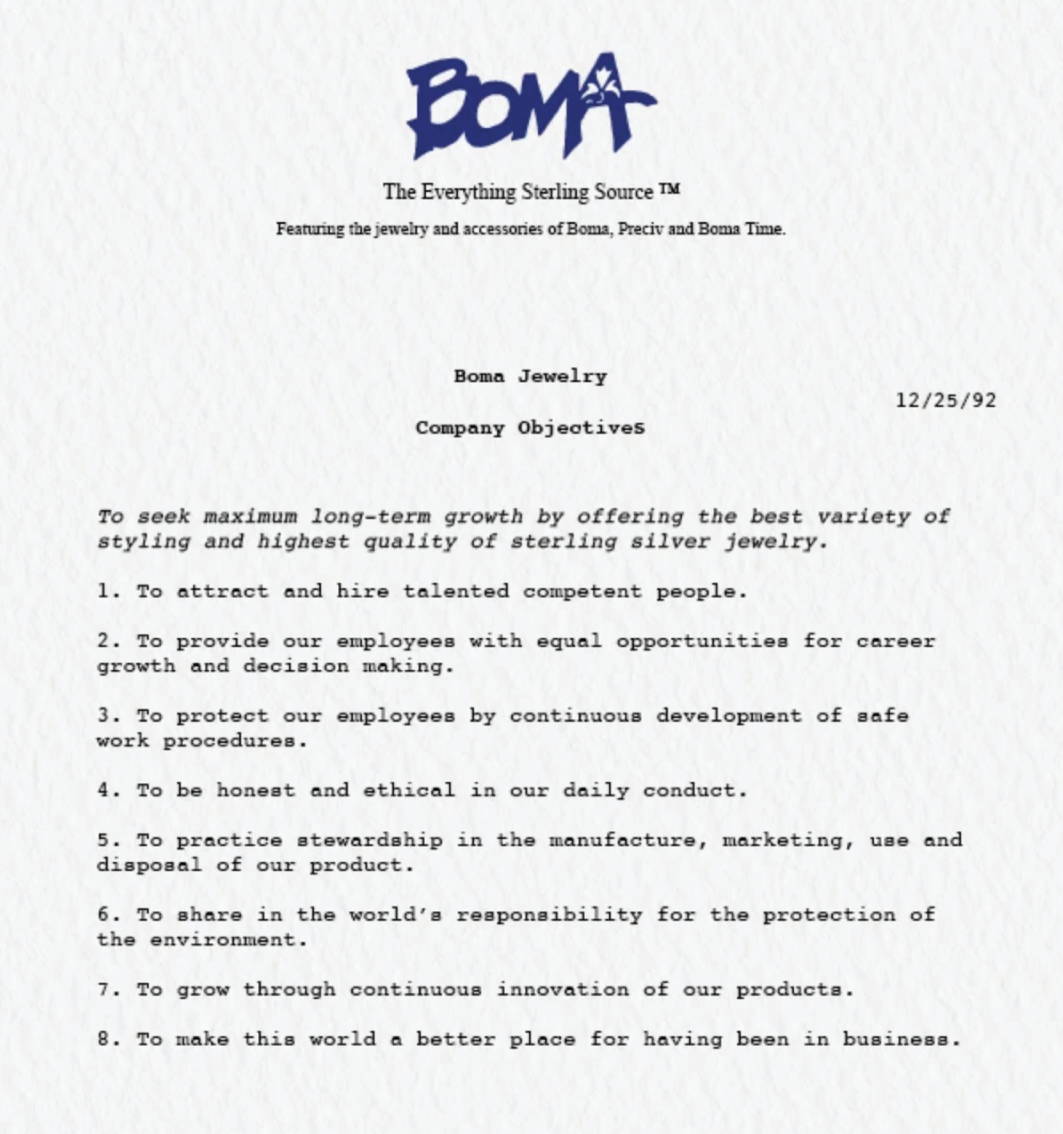 In many ways this document written over 28+ years ago demonstrates the lasting vision, mission and values that our company has adopted while demonstrating the ways our company is evolving in sharing our vision, mission and values today.
A summary of our 1992 values shared below:
To seek maximum long-term growth by offering the best variety of styling and highest quality of sterling silver jewelry.
1. To attract and hire talented competent people.
2.
To provide our employees with equal opportunities for career growth and decision making.
3.
To protect our employees by continuous development of safe work procedures.
4.
To be honest and ethical in our daily conduct.
5.
To practice stewardship in the manufacture, marketing, use and disposal of our product.
6.
To share in the world's responsibility for the protection of the environment.
7.
To grow through continuous innovation of our products.
8.
To make this world a better place for having been in business.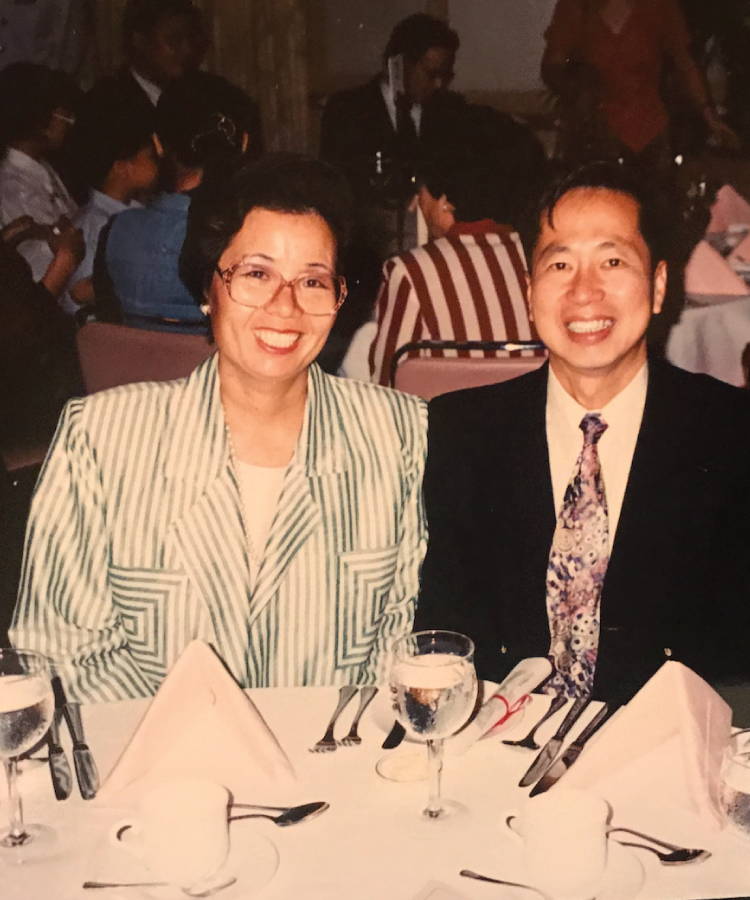 Pictured: Chieko and Boon, Boma Founders

Pictured: Boma ads from the 1990's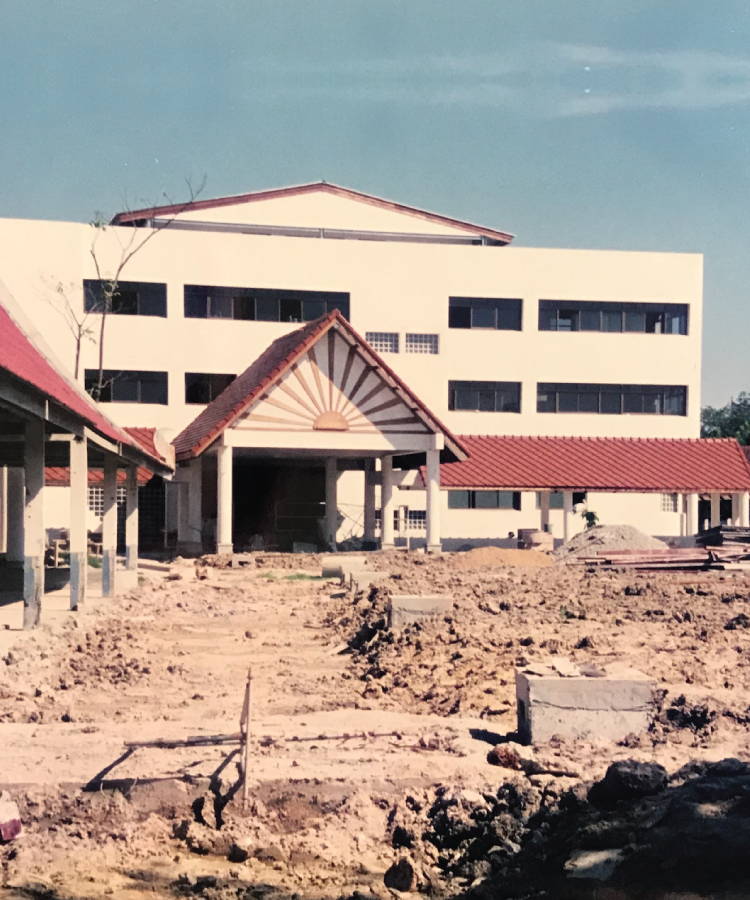 Pictured: Our second factory location being built in Bangkok in 1994.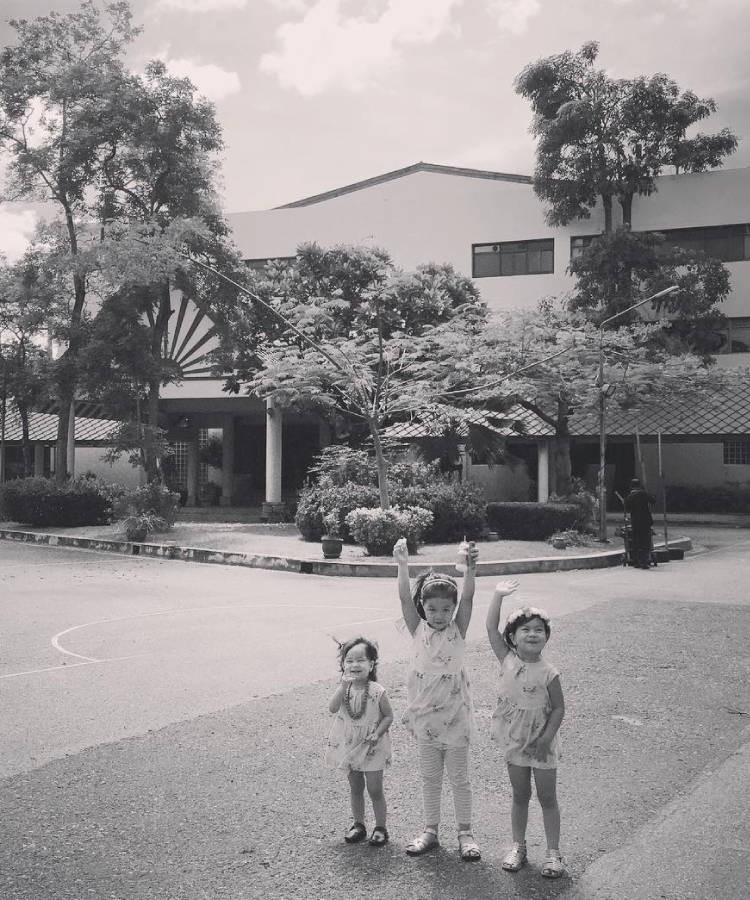 Pictured: Third generation Boma owners in front of our factory.

We believe that the people who make your things matters.
All our workers receive the following long-term benefits: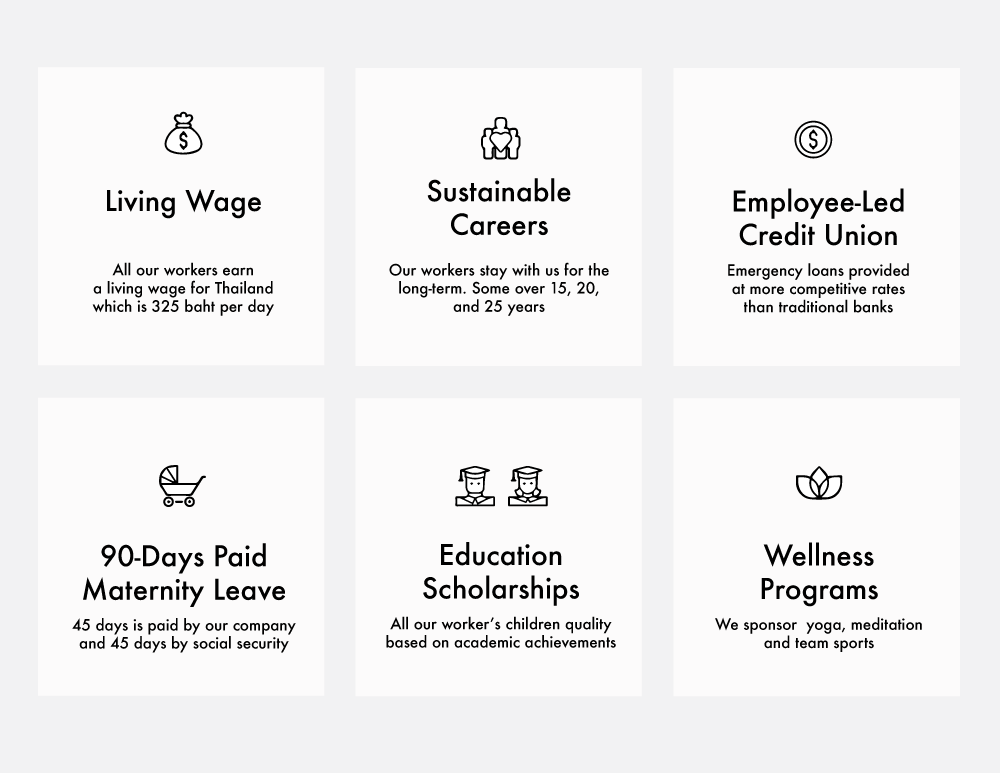 We built our jewelry factory slowly over four decades and have many of our original workers still working with us today. Behind each piece of Boma Jewelry is a smiling face and dedicated and hard-working person who takes great pride in his or her work.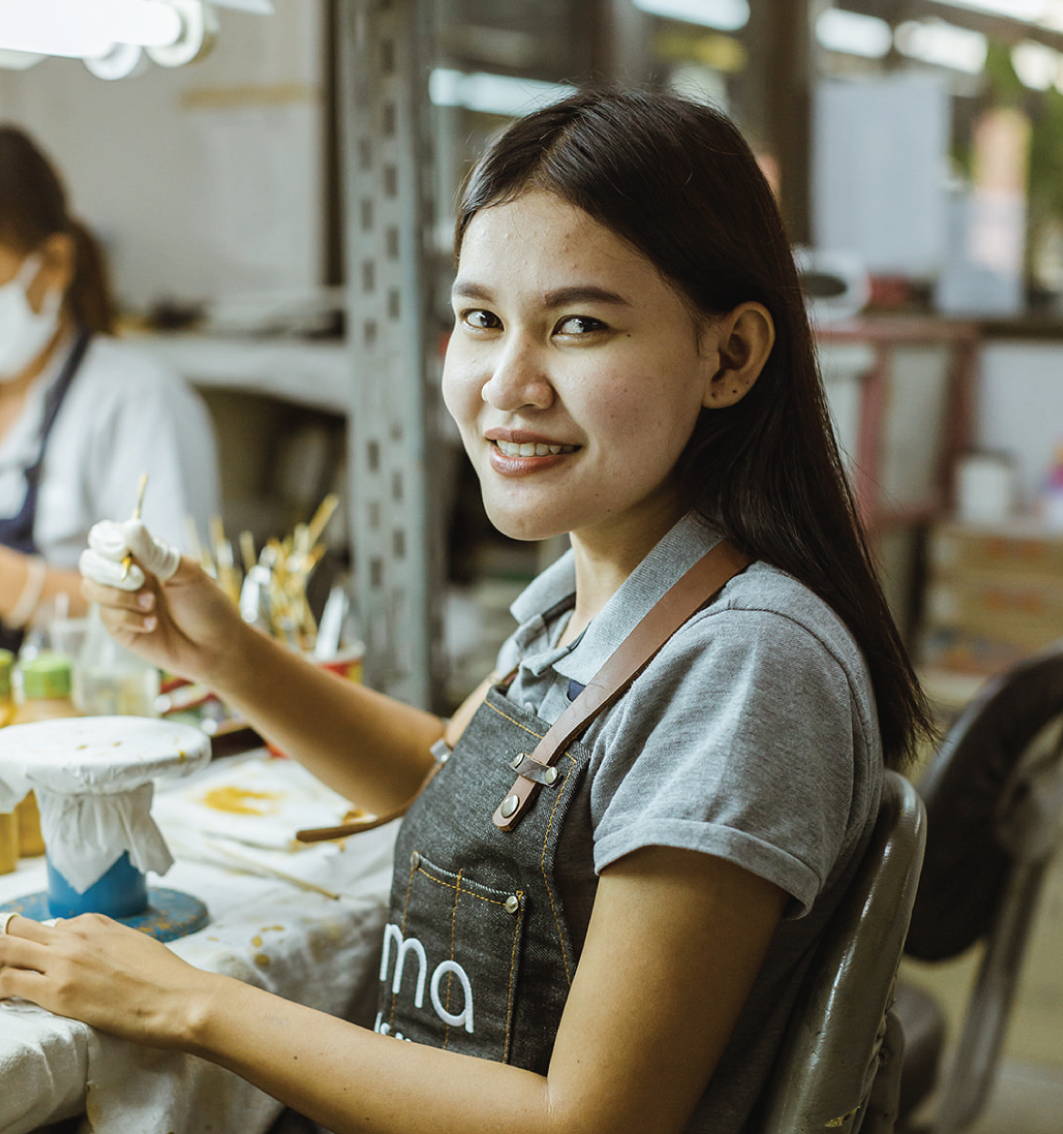 Meet our Boma Jewelry Makers.
Say hello to some of our workers. Learn more about their career as a jewelry maker and what they enjoy about their work.
Each piece of Boma Jewelry passes the hands of over 21 skilled artisans and silversmiths from start to finish.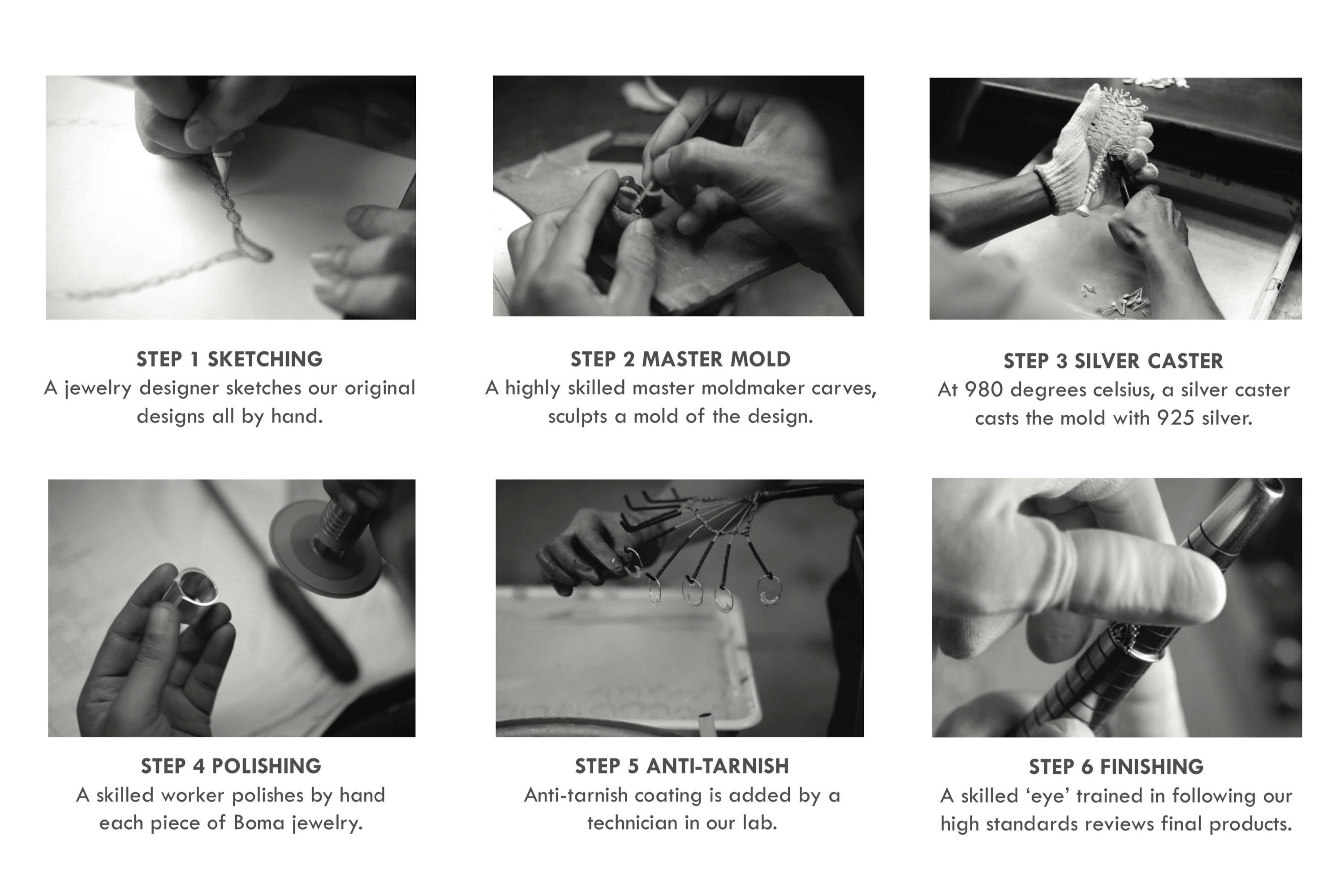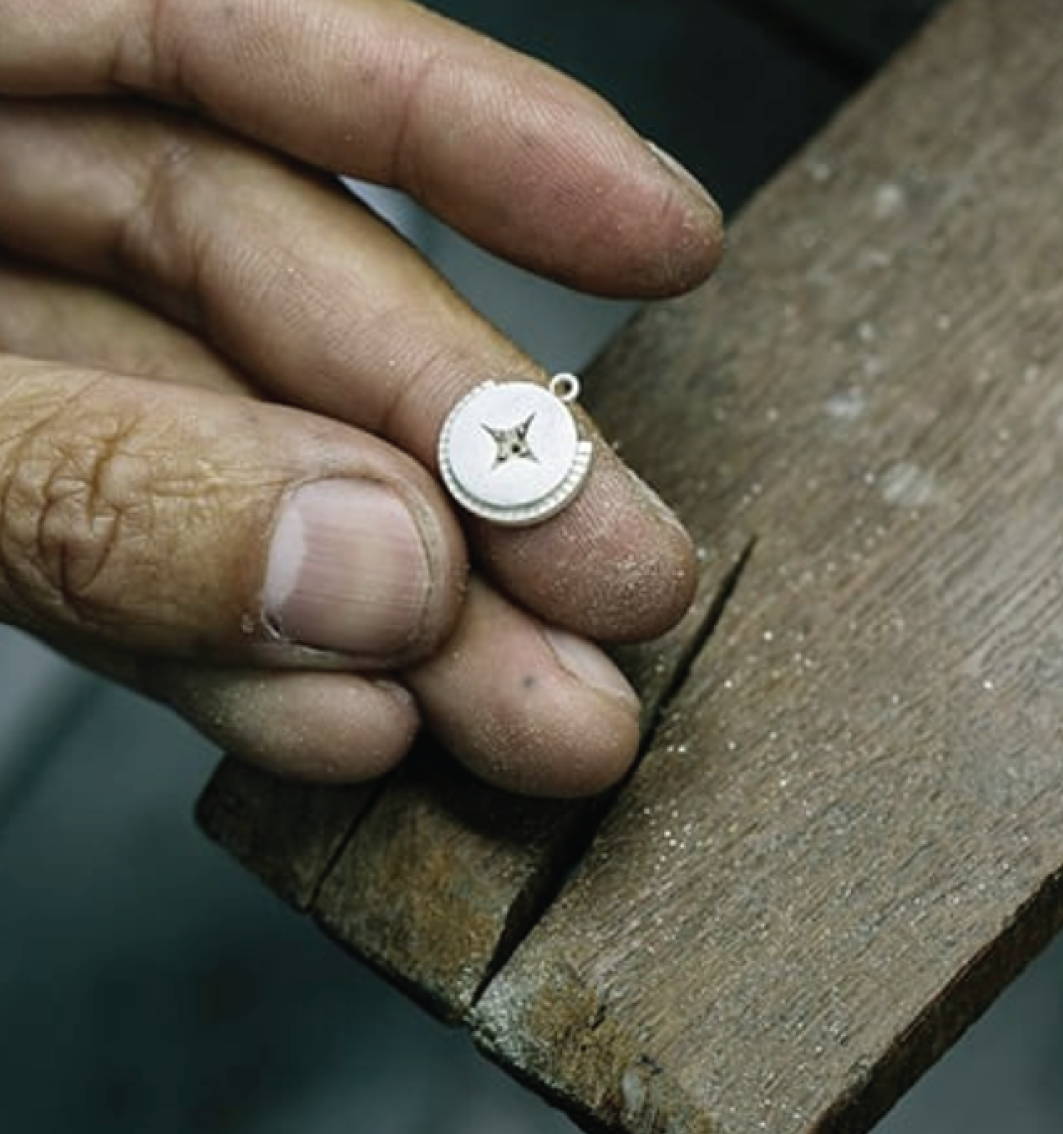 Watch some of the different processes and techniques that go into our jewelry making.
Founded in 2016 to formally donate funds to programs created specifically for our worker's families.
The Boma Girl Fund was created in 2016 to formally donate funds to programs created specifically for the workers and families and communities of the artisans and craftspeople who make our jewelry each day. Originally it was intended as a fund exclusively for girls and women but has grown to be inclusive of all children, spouses and extended family members.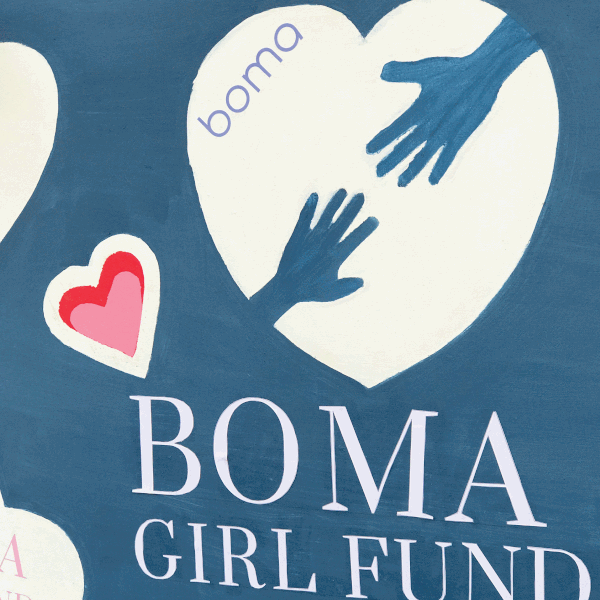 Each year Boma commits annual funds for programs that include: education scholarships, book drives, family and community events and wellness activities for workers. Since its inception, Boma has a goal to increase funds year over year by 15%.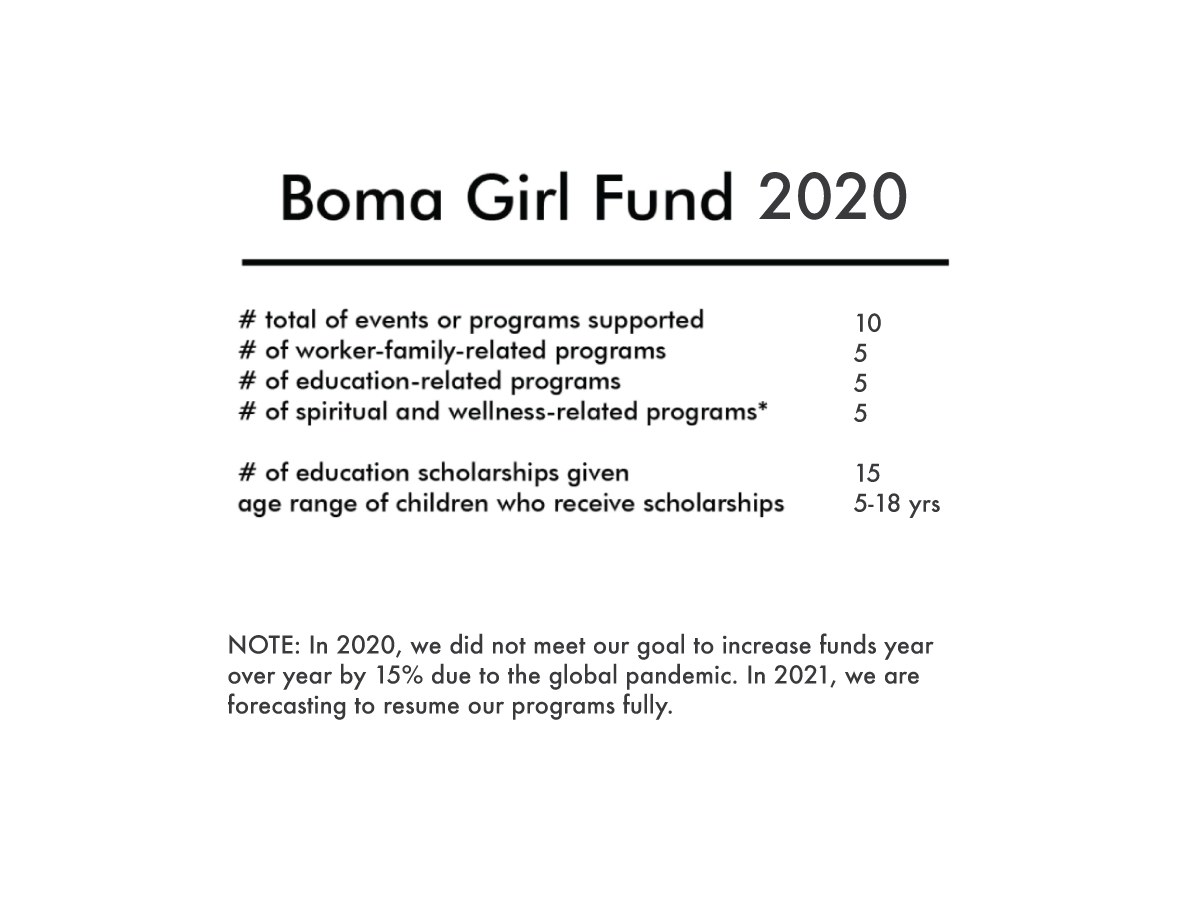 Earrings, Necklace, Bracelets, Rings
Animals, Trendy, Boho, Nature, Sun, Moon & Stars, and Zodiac